About me
 "Diving is a way of life"
What started off, nearly 20 years ago, with an introduction dive with a nearly fatal ending, developed in a lifestyle that has led me to some extraordinary experiences. From living and traveling in and to some of the most remote and exotic places, working on several TV and film productions, exploring caves and identifying wrecks, to working on private yachts, live-a-boards, diveshops and resorts all over the world. I have dived with some of the greatest divers on some of the greatest dive sites on this planet. I have met a lot of interesting people, from all walks of life, made a lot of long lasting friendships.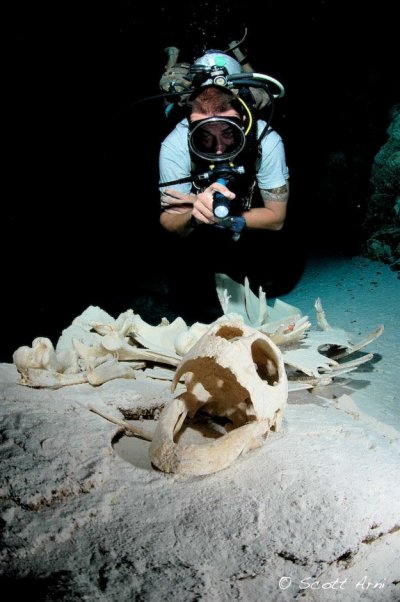 Turtle skeleton in the "Temple of Doom" Blue holes, Palau
As diving is still a relative young sport, I can still feel the pioneer spirit around the diving industry. The ever evolving new equipment and techniques , make it possible to push humans further and further into the blue realm. What could not be done 20 years ago is considered a routine weekend dive by many divers today. It is truly the last frontier
There is no better feeling than diving an un-dived cave, an unidentified wreck, an unexpected encounter with a big shark, manta ray, whale, or a colorful pristine reef full of life, schooling fish, or even under fishing boats  and jetties on sandy bottoms, hunting for some of the most amazing and strange creatures living on this planet. Countless memorable encounters have been burned in my memory forever.
.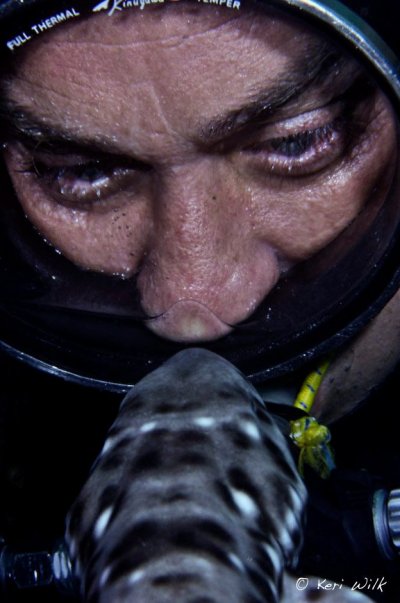 Eye to eye with a small bamboo cat shark
I have been lucky to have met so many great divers, and have been able to learn from and dive with some of the best out there. My technical instructor trainer, Tom Mount one of the founders of IANTD, has taught me, besides specialized diving techniques, many valuable lessons in life, that I still refer to, on a daily base.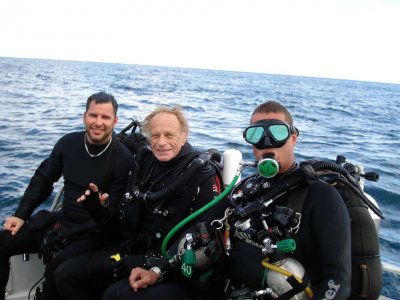 Craig, Tom Mount, and me, after a 100m/330ft wreck dive in Florida
  Several fish ID book authors and scientists, the likes of Roger Steene, Ned and Anna Deloach and Dr. Patrick L. Colin from The Coral Reef Research Foundation Palau have shown me a dedication to what they do, that is hard to surpass. I would have never figured out some of the things they showed and taught me, for which I am greatful. Dr Pat helped me with the identification of, as it turned out, a new species of cave shrimp (Espeleonaushonia palauensis) which I found during a cave exploration in Palau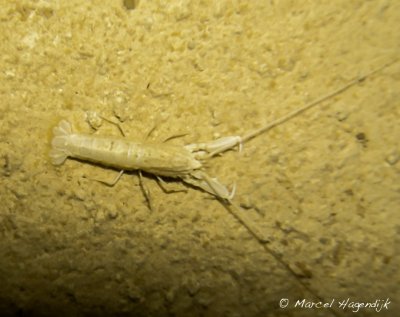 Espeleonaushonia palauensis, or, as I like to call it: Shrimpus whitus marcellus 
I still have fond memories of meeting and diving with dive legend and cinematographer Stan Waterman with his endless enthusiasm, passion, and energy, hearing in awe, how things were done in the old days. A true pioneer that has deserved every stripe he has got. Without people like him, diving today would have looked different. He gave me sense of adventure, dedication, and passion which I hope to keep until the end of my life.
Stan is my Hero!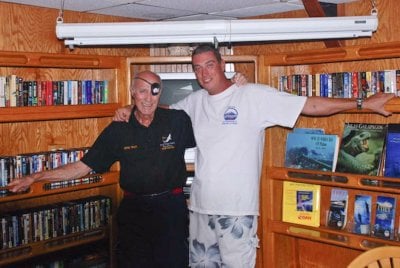 Stan and me on the Palau Aggressor II
Besides the old school cinematographer, I have been diving and filming with Richard Wollocombe for the BBC/Discovery project South Pacific in Palau, which made me want to become an underwater cinematographer. I learned how it is done professionally, how to get the "money shots", and was amazed by the dedication of Richard to get these shots. He is a diving machine!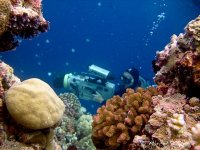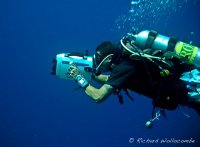 Richard Wollocombe and me filming for BBC/Discovery project "South Pacific" in Palau
I dived with IMAX cinematographers and photographers Howard and Michelle Hall in Ambon, together with John and Karen Ellerbrock from GATES housing, Shark Saver Douglas Seifert, and the incredibly funny Norbert Wu, in a "Clash of the Titans" underwater.  2 RED cameras, besides various other impressive pieces of equipment made this a great experience and a fond memory. Extraordinary divers turned friends, enjoying the life, dedicated to the underwater world imaging.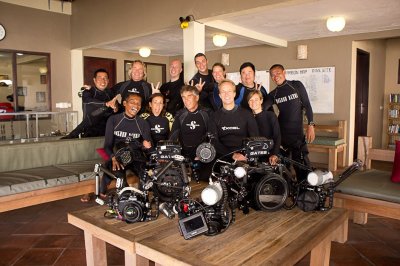 "Team RED", with the Maluku Divers Team. Left to right: Semuel, Douglas, Andy, me, Emily, Norbert, and Solemon. Font row: Nus, Michelle, Howard, John and Karen. and enough cameragear to buy an island..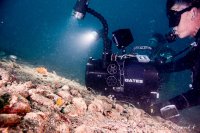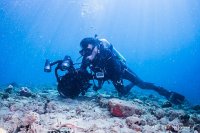 Howard Hall filming on location in Ambon, Maluku archipelago, East Indonesia
A short visit to Maluku by DJ Roller and his team from Liquid Pictures 3D is certainly worth mentioning, as it was an interesting time, and certainly the biggest camera setup I ever worked with. Filming Mimic Octopus, Rhinopias, and Harlequin shrimps for IMAX in 3D with this 400 lbs custom build housing demands a whole different set of skills. Certainly spectacular in 3D on a 25 ft screen.
  "Beam me up Scotty....."
And then some of the greatest underwater photographers out there, with whom I have had the honor to dive. Tony Wu, Eric Cheng, Julian Cohen, Drew Wong, (Wetpixel) Keri Wilk, Rod Klein, Mike Veitch, Burt Jones and Maurine Shimlock, EunJae Im, and a whole army of other excellent photographers that I dived with, who have shown me the different styles of photography, and taught me more than any photo  book or academy could ever have taught me. Having seen these guys at work was fundamental for the development of my own photography skills.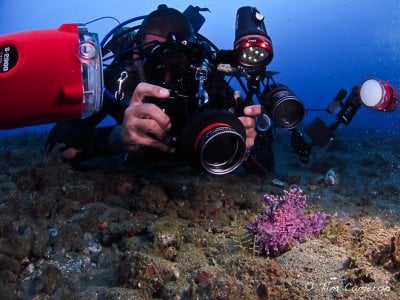 Me and my camera blinding a purple Rhinopia
Of course, a special BIG UP! to all the fantastic dive guides, and friends, who made it possible for me to experience some of the best diving I have ever done (You know who you are! Tony, Christina, Rich, Made, Stoner, Solemon, Semuel and countless others)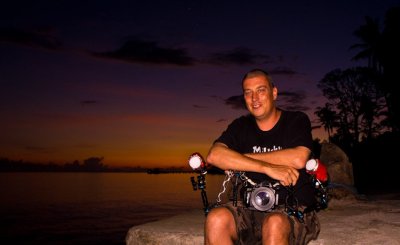 All in all, diving has changed and formed my life. I would not know what I would do different, if I could do it all again. I love diving, and everything related to it.
When I dive, I am happy.
Free.
From beneath the waves, happy bubbles, flat seas, and spectacular dives.